Every once in a while my husband and I play the "what if we won the lottery" game. Would we quit our jobs or keep working in some fashion? Buy a McMansion or build our own complex? Go crazy buying cars or airplanes? It would probably take quite a windfall to accomplish all of my lottery dreams, because I like to dream big. What's the point of dreaming if you aren't going to aim high? I would most definitely quit my job, though I would probably get a masters in graphic design and have an in home business, a goal I hope to achieve even without winning the lottery. For the rest of the items on my wish list, I am giving you a glimpse into my imaginary world.
For starters, we would definitly upgrade our abode. Right now we are squishing 3 people and an array of primary colored toys into about 900 square feet. Don't get me wrong, that's quite a lot of room compared to most New York apartments. But we're not in New York, we in the burbs, and about 800 square feet has been taken over by a toddler tornado. Something a little bigger would be nice, say something like this:
Or maybe....

Really it would just be a
tiny
upgrade...Can you imagine playing football on those lawns at Thanksgiving? I've always wanted a HUGE lawn...and a landscaping service to take care of it for me. Both of these options are nice, but I think I prefer the first, it comes with plenty of acreage, which means we could build a home for our in-laws on the property. I know you're all thinking I'm crazy, but I think it would be awesome.
Once the house was taken care of, I would need some form of transportation. I'm not really picky on this, I don't need to spend $100,000 on a car to be happy. I just want something that is comfortable and safe. I would probably be just as happy with this:

as I would be with this:

And that would pretty much take care of my purchases. I'm a generous person, so I've also given a lot of thought to what I buy for the people in my life. Because I like to give, and if I were to win the lottery, I could do it on a BIG scale.
For my mother-in-law who loves to sew and is incredibly crafty I would buy a free arm quilting machine. Something similar to this: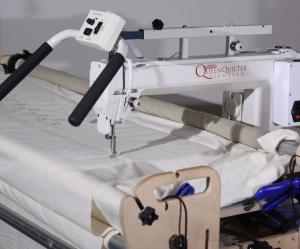 For Justin I would support his gaming habit in the best way possible, with a super expensive and fast PC such as this one:
Processor: Intel Core i7 965 (3.925 GHz), RAM installed: 12 GB DDR3 SDRAM, Graphics Processor: NVIDIA GeForce GTX 280
I know, I'm awesome.
Moving on down the list to Tysen...That's where it gets a little tricky. He's my baby, I want to give him the world, literally and figuratively. I've included the one must have item:
I know what your thinking, I do; it's quite a jump from contemplating a fish to owning a horse. But the boy loves horses. How could I deny him this? If we are going to own a ginormous house with plenty of acreage (did I mention it has a barn?) we need to have at least one horse.
I know the chances of actually winning the lottery are minuscule, and I have no real dilutions that I actually will. But every once in a while, it's nice to dream. So, what are your lottery dreams?