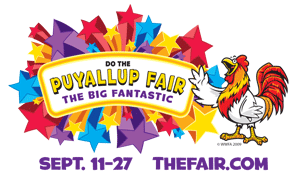 This last Sunday we "did the Puyallup" as locals can be heard saying at the Puyallup fair. Of course we ate too much fair food, but that is to be expected! The fair is huge and I think we probably covered all 160 acres!! Though Tysen was too small for almost every ride, we did sneak him onto the train that runs through the kiddie area. Technically children are supposed to be two years old to ride, but try telling that to a train lover like Tysen; he wasn't going to let age stand in his way of riding that train! Her are a few photos from our day.

Justin and Tysen waiting for the acappella group, The Coats

Riding the merry go round, one of his favorite stops anywhere

Playing carnival games

Today I woke up with a horrible migraine, which I am just now recovering from. Otherwise, I'm sure there would be a witty review of all things fair related. The best I can say is that the deep fried Twinkie did not live up to the hype, and I should have caved and purchased a Sham-WOW.